Staywithstylescottsdale.com was featured at emitons.com.
Heres what they said:
Recently, I visited the beautiful city of Scottsdale, Arizona. Located just 40~ minutes from Phoenix, Scottsdale is the perfect weekend getaway to escape the cold. As someone who lives in Seattle, I am always looking for more ways to soak in some vitamin D. The beauty of Scottsdale is its diversity – you can wake up early for a hike in the red mountains of Sedona before sipping mimosas by the pool in the afternoon. It's a city that offers nature, a cosmopolitan feel, but most of all, tons of variety. Below I have created what I think is the best way to spend 48 hours in Scottsdale. NOTE: I am a brunch person, so most of the meals I splurged on were brunch. Luckily, Scottsdale has some of the best spots for brunch.
---
Where to stay, eat, and do.
My best recommendations for how to spend a weekend in this desert Oasis.
Step 1: Find a place to stay.
When booking a place to stay, look no further than Stay with Style: Scottsdale. They are a family owned business with some of the most fun & modern properties in the city. With 9 different properties to choose from—you can find one that best suits the needs of your group. I recommend a vacation rental over a hotel for multiple reasons: 1. You can have the pool all to yourselves. One of the things I dislike most about hotel pools is that they're always so crowded and cabanas cost too much money to rent for the day. With a vacation rental, you can guarantee that there will be spots to lounge by the pool and that it won't close at 10pm. 2. The kitchen. Seems like a simple thing that you wouldn't think you would want on vacation, but having a kitchen was a huge bonus to saving a lot of money in the city. All of the properties come with a fully stocked kitchen so you can blend your own drinks to enjoy by the pool and bring your own snacks. Our rental, The Hummingbird house, even had a cute coffee bar to enjoy in the mornings and a BBQ grill to enjoy during the day. The house had everything we needed to have a stress-free weekend. 3. The price. For $265 a night Sadie and I had a 3-bedroom house with a pool all to ourselves. It was the perfect recipe for a relaxing weekend away.

An added bonus of this accommodation is that it came with a free activity planner called Concishare. This made it easy for us to book a balloon flight last minute because the owner knew the people who owned the balloon company. It was definitely a highlight of the trip!
Step 2: Find things to do.
One of my favorite things about Scottsdale is that there is never a shortage of things to do. This is a city that caters to both the leisurely and adventure travelers—and everyone who falls in between. Sadie and I knew that we had to get out and explore Sedona—a very unique and beautiful place in Arizona. Located just two hours away from Scottsdale, the first thing on our agenda was to hike some of Arizona's red rock mountains. I had always been intrigued by Devil's Bridge and knew this is where I wanted to spend sunset on the first day. The hike is pretty popular, so be prepared to park in overflow parking. It's about a 4-5 mile hike roundtrip that is relatively easy. It's a must see if you plan to make the drive out to Sedona.
Sadie walking across the iconic Devil's Bridge. It's relatively sturdy—but please take caution if you decide to walk out there!
A Scottsdale must: fly in a hot air balloon at sunrise.
One of my favorite things we did on this trip was fly in a hot air balloon over Scottsdale at sunrise. Initially I was afraid to go, but it has been a bucket list item of mine for a long time, and when Concishare offered the last minute opportunity, I knew I couldn't turn it down. It was hands down one of the best experiences I have ever had. Flying in the hot air balloon was extremely peaceful and it was amazing to see balloons speckled across a golden sky. If you can only do one thing in Scottsdale—this should be it. The company we flew with was BalloonsAZ. Their staff was really knowledgeable and funny and they also provided a fun breakfast afterwards.

If you want to splurge and visit a pool bar for the heck of it, I would recommend the pool bar located at the Andaz Scottsdale resort. The drinks were fun and the pool had plenty cabanas to lounge around in while you sip. We spent an afternoon over here to listen to a live DJ and get our tan on.
Sadie sitting at the fun poolside bar. We loved the modern look & feel of this space.
Step 3: Find places to brunch.
I am going to be honest here and say—that brunch is by far the best meal while traveling for 2 reasons: it's delicious and it allows you to eat two meals in the same sitting which allows more time for exploring. That being said, Scottsdale had some of the best brunch places to choose from. The two places below had amazing ambiance and food. Thanks to both Hash Kitchen and Eggstasy for providing Sadie and I with delicious eats!
Spot 1: Hash Kitchen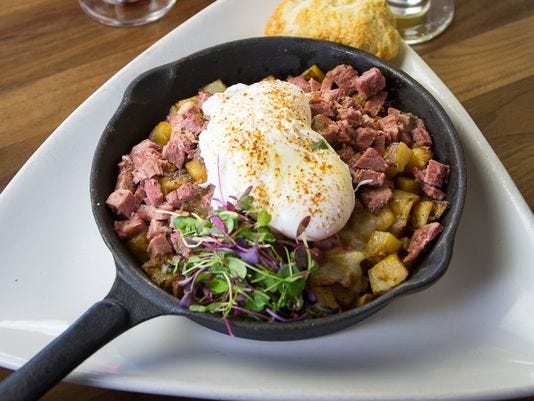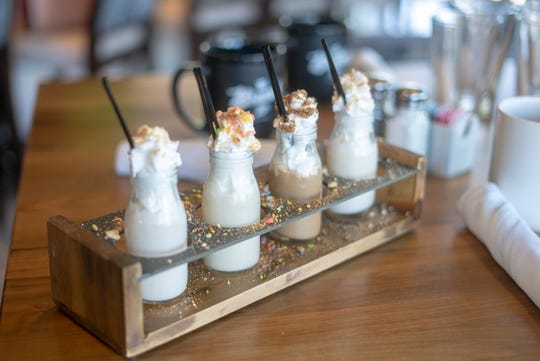 Hash kitchen is a must visit spot if you're in Scottsdale. On Saturday mornings the place is like a party. They bring a live DJ, have a bloody mary bar, and serve alcoholic cereal shooters (seen above). It's a fun way to start the morning off right.
Spot 2: Eggstasy
Located just a short distance from our rental property, Eggstasy was the perfect spot to sit outside and enjoy brunch. With a large outdoor patio and a walk-up bar, you can't go wrong with choosing this place. Some of our favorites included the lemon ricotta pancakes and their morning hash. Both equally delicious.
The food we ordered. Check out the garnishing on the bloody mary!
Bloody mary with a slice of bacon covered in chocolate.
I am excited to be giving away this same experience to two people! See Instagram post for more details :)!